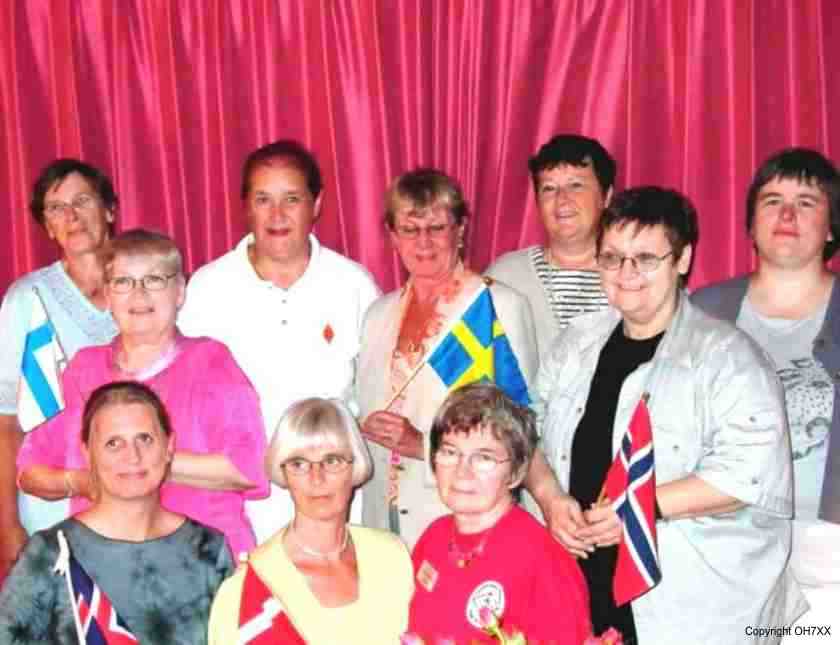 Back standing: left. Maya OH1MK/OH2HLZ, Tuulikki OH7XX (with flag of Finland),
Jatta OH2IO/OH1LAG, Eine SMØUQW (with flag of Sweden), Ingrid LA/SWL,
Unni LA6RHA (with flag of Norway), Vala TF3VD/TF4VD
in front: Anna TF3VB (with flag of Iceland), Inger OZ7AGR (with flag of Denmark) Raija, SMØHNV
---
---
Representatives from the Scandinavian countries, Denmark, Finland, Iceland, Norway and Sweden
came together in Copenhagen 15th August 2003 to found the first joint YL organization.
An idea which was born during the International YL meeting in Palermo in June 2002, was then to become a reality.
SYLRA, which is an organization open to all YLs and YL SWLs will first of all be an Internet based organization with its own web pages.
During the meeting the following contact persons from each of SYLRA´s countries were elected:
OZ7AGR Inger – Denmark
OH2IO Jatta –Finland
TF3VD Vala –Iceland
LA6RHA Unni –Norway, electet chairwoman
SMØHNW Raija –Sweden
elected webmaster: OH7XX Tuulikki
Copenhagen 15th August 2003
| | |
| --- | --- |
| Inger, OZ7AGR, Denmark | Anna, TF3VB, Iceland |
| Jatta, OH2IO/OH1LAG, Finland | Unni, LA6RHA, Norway |
| Maya, OH1MK/OH2HLZ, Finland | Ingrid, LA/SWL, Norway |
| Tuulikki, OH7XX, Finland | Raija, SMØHNV, Sweden |
| Vala, TF3VD/TF4VD, Iceland | Eine, SMØUQW, Sweden |