YL of the Month — September 2018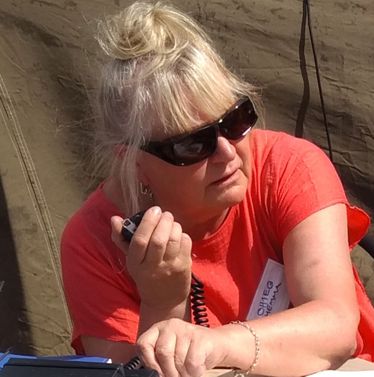 OH1EG Memma

Name:
Merja Koivaara

Callsign:
OH1EG

Year of license:
1977.

Main interest in the hobby:
Field days, natural parks, clubs and to the end of this year president of SRAL.

If known, how many QSOs and countries have you worked:
In the beginning I collected countries (40 years ago), but I don't remember. Collecting countires and QSOs is not important to me.

Why did you become radio amateur:
When I was about five years old my father told me about the Morse alphabet. I found it fascinating. (My father was not a radio amateur but he was a telegraphist during the war time and keen on radios).

When did you become a member of SYLRA:
2005.

Member of radio clubs:
I am member of several Finnish radio clubs.

One or two stories from the real radio life:
As soon as the Teijo National Park was officially opened in the beginning of 2015, I established overnight camp there and activated the 80m band. On January 5th I packed our club half-platoon tent, stove, firewood, radio, car battery, dipole and other supplies into my car. One young member of our club OH1AD joined in unflustered with a forecast of 20 degrees of frost for the night. In between QSO's I slept now and then for a few hours donning my felt boots and fur hat under sheep fleeces. We slept in turns with the other keeping fire watch. During the night the trees clapped with the frost, the nearby lake boomed as the water froze, the full moon illuminating the white snow in the dark blue night. The ambience was like from a Dr. Zhivago film, less the howling wolves!
I was elected chairman for two years of our national radio society in the SRAL Autumn 2012 meeting. I was re-elected in 2014 and 2016. I organised the NRAU meeting in Finland in 2013 and last year I participated in the Denmark meeting. Our rules limit the chairmanship to three terms, but as I leave my position as chairman, I am proud to be the first YL elected to chair our society. SRAL celebrates its 100th year in 2021.

OM's callsign and name:
Ilkka, OH1AYJ

Another hobby:
Acting in local theatre group and sailing in summers.

What is/was your main job:
I worked for Chamber of Commerce in several positions for 35 years.

Motto:
Here to stay!