YL of the Month — November 2018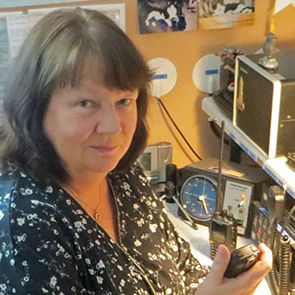 SM6WXL Gunnel

Name:
Gunnel Andersson

Callsign:
SM6WXL and SJ6G

Year of license:
1998

Main interest in the hobby:
DX-hunting and collecting DXCC-entities, and of course, talk to people all over the world.

If known, how many QSOs and countries have you worked:
At the moment I have 220 confirmed (mixed) countries.

Why did you become radio amateur:
My OM started reading 1998 and I helped him with his training and made some sample questions. I continued to read and two months after him I took my license in September1998. In 1999 I passed the morse code examination to get permit for the short wave band. And a new world was opening!

When did you become a member of SYLRA:
2003, I was also the Swedish contact person for some time.

Member of radio clubs:
SSA

One or two stories from the real radio life:
We have had 20 years of fun with amateur radio, and worked from many different places in Sweden. Memorable moments are pile-ups in Morokulien SJ9WL/LG5LG where we have been more than 20 times.
I also remember one time when we were putting up our dipole antenna with the help of a casting rod (for fishing). We were in a fishing area and our fishing neighbors were looking at us as aliens when we were fishing in the trees.

OM's callsign and name:
SM6WXA and SJ6J, Jan. Without his knowledge about antennas and equipment I would have been helpless. I contribute with a good memory of call-signs, country prefixes and do all the job with QSL-ing and update of DXCC. An unbeatable combination!

Another hobby:
Photography, cooking (and of course eating), reading. I also like short-hand and I am the president of the local Shorthand Association.

What is/was your main job:
Assistant at a personnel department.

Motto:
You may be glad that you are as you are, when you did not become as you should!