YL of the Month — May 2018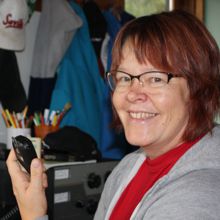 OH5KIZ Marita

Name:
Marita Ritmala-Castrén

Callsign:
OH5KIZ

Year of license:
1972

Main interest in the hobby:
Rag chewing with friends, participating in local (Finnish) contests and the Scandinavian Activity Contest SSB

If known, how many qso's and countries have you worked:
No idea, never counted

Why did you become radio amateur:
I grew up surrounded by radio amateurs – my mother, farther, two uncles, and all their friends. The radio was always on, and I listened to my parents operating. So, it just felt like something I also wanted to do.

When did you become a member of SYLRA:
2011 when SYLRA had its meeting in Porvoo, Finland.

Member of radio clubs:
SYLRA, ALARA, CCF Contest Club Finland, OH5AG local Radio club of Kouvola, SRAL Finnish Radio Amateur League.

One or two stories from the real radio life:
Oh, so many fond memories of meeting hams and making friends around the world in Cuba, Australia, New Zealand… One of the best is the "jungle time" in 2011 with wonderful YL's Inger, OZ7AGR, and Sharron, ZL3AE, and of course their OM's. A two night pedition in a nature park; operating in a tent, talking by the bon fire, sleeping in pretty primitive conditions, having sauna… That was the start of a great ham friendship.

One memory from the time just before I was licensed: My mother and her YL friends fabricated a great April fool's prank in 1972. They wrote an exciting (imaginary) story about a YL pedition to the Arctic Ocean, OH2XYL/M/ARCTIC, and had it published in the Finnish Radio Amateur Magazine. The illustration of the story included me and another YL's daughter standing on the Ocean. However, the picture was taken on ice in front of a sea side town Kotka by the Gulf of Finland, not on Arctic Ocean. I still remember the commotion the story caused – YL's on the pedition on the Arctic Ocean in 1972, hi!

OM's callsign and name:
Risto, no callsign.

Another hobby:
Group exercise by music, e.g. Zumba, Aerobics.

What is/was your main job:
Magnet® Hospital Coordinator in Helsinki University Hospital – assisting our nursing staff to develop our hospital towards the Magnet® Hospital accreditation.

Motto:
Forever Young and a Lady, hi!